Deceptive car & auto advertising
Car & Auto
Dear New Yorker, 
New York law prohibits false, deceptive, and misleading advertising. The law recognizes that advertising plays an important role in helping you, as a consumer, decide which products to purchase, and that false, deceptive, and misleading advertising can lead you to make bad purchasing decisions.
Buying a car could easily be the second most important purchase in your life (after buying a house). Advertising should provide accurate information to help you decide what kind of car to buy, and from whom to buy it. Deceptive or misleading advertising can make it more difficult for you to make informed decisions.
False and deceptive advertising also causes problems for dealers who comply with the law. That is because dealers who break the law can lure consumers away from ethical dealers with their false or deceptive ads.
Our office has developed the following information to help you evaluate offers and solicitations for new and used automobile purchases and leases.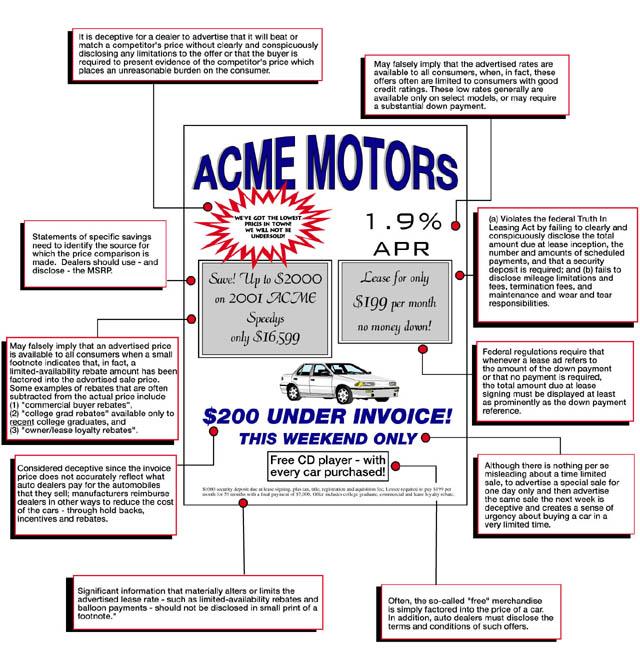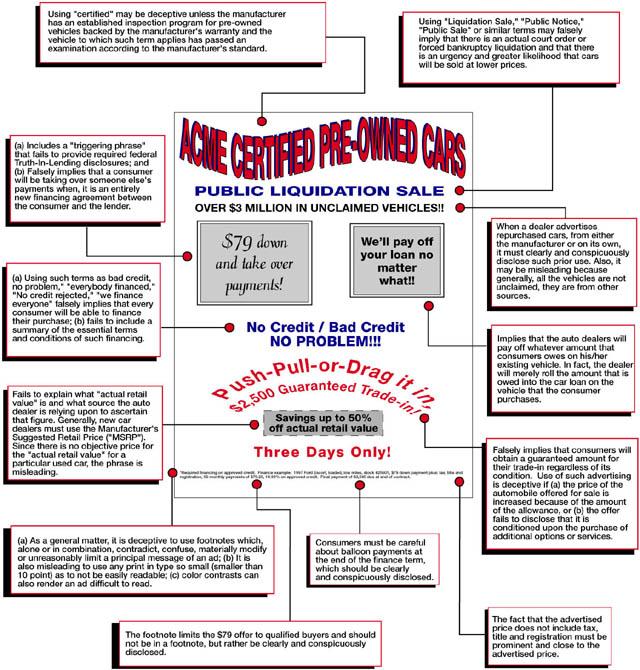 "Under invoice", "Below dealer's cost", "Under wholesale!!"
These phrases imply that a dealer is selling a used car for less than what the dealer paid. These advertising tactics are considered misleading since the invoice price or the dealer's price does not accurately reflect what auto dealers ultimately pay for the automobiles that they sell. Many manufacturers compensate dealers in other ways. A dealer can receive holdbacks (money withheld to the dealer until it sells a certain number of vehicles), rollbacks, and other in-kind offers, that can significantly affect what the dealer eventually pays. In reality, the final price is frequently not determined until the end of the model year, when the dealer's actual volume of sales has been determined.
"Public liquidation sale", "Public notice sale"
These wordings give the impression that the sale is ordered by a court or that the dealer is going out of business when this is probably not the case. Be aware that such sales may not provide the great bargains that their advertisements imply.
"0.9% financing!"
Many auto dealers advertise low finance rates on new cars. While it may seem that the advertised rates are available to all consumers, they may be limited to people with a good credit rating. In addition, often these low rates are available only on select models or may require a substantial down payment.
"All rebates and incentives applied"
Many advertisements imply that an advertised price is available to everyone — with a small footnote indicating that a limited-availability rebate amount has been factored into the advertised sale price. Some rebates that are often subtracted from the actual price include:
"commercial buyer rebates," which apply only to individuals purchasing cars for their businesses
"college grad rebates" available only to recent college graduates
"owner/lease loyalty rebates," which apply only to consumers who have previously leased or owned the same model of car
"$49 Down", "Acquisition fee, bad credit — No problem", "Unclaimed vehicle sale"
Some auto dealers advertise special promotions that say that all you have to pay to buy a car is "$49 down," or other low amount. These ads often promise that bad credit is not a problem — which may be the case, as they will sell to anyone. They usually don't tell you the real cost of financing the purchase, as required by federal law. Sometimes these advertisements give one example of sale terms but fail to mention that these terms are not available for most of their cars.
"$0 Down, 0% interest for 6 months"
These statements are misleading because you typically are responsible for tax, title, and registration fees when you buy or lease a vehicle. In addition, while you may pay 0% for the first few months, your finance rate may be much higher in later payments to cover the total cost of the financing. As a consumer, carefully consider these deals because your monthly payments will probably increase after the first six months, or you might have to pay a significant balloon payment at the end of the lease.
"Lease a car for $169 per mo."
These claims violate the federal Truth In Leasing Act. While it may sound like you have to pay only $169 when you sign the lease, you will probably have to pay much more. In addition to tax, title, and registration amounts, you will probably be liable for significant payments at lease inception, such as a down payment, acquisition fee, and security deposit. The law requires dealers to clearly state all payments due at lease inception. Dealers must also disclose other significant costs that could arise during or at the end of the lease, such as:
mileage limitations and over-mileage fees
whether you are responsible for maintenance and wear and tear on the car
any termination fee, if you do not purchase the vehicle
"Push, pull, drag it in, guaranteed trade-in $3,000!"
This advertising is deceptive because dealers cannot guarantee a certain price for a trade-in, regardless of how much the trade-in is actually worth. Some dealers raise the prices of the cars on their lots before these "special sales" so that you do not get a bargain. Others merely adjust the terms of the deal so that you are not really getting as much as you think for your trade-in.
"Program cars", "Loaded", "Low mileage"
Some auto dealers advertise used cars without telling you how the car has been used. It might have been a rental vehicle, or a manufacturer buyback, for example. They might not tell you what options the car has, or how many miles it has been driven. You should have all this information to assess the car's real condition and whether the advertised price is good.
"Pre-approved credit", "You are pre-approved for $15,000"
Some dealers advertise that you have been " pre-approved" for auto loans, but this is misleading. You may not obtain this financing for which you have been "pre-approved." By federal law, a dealer using these phrases either has to have already approved you (either themselves or through an outside lending institution) for the credit amount before trying to sell you the car. The law also requires that the dealer provide certain disclosures, including advising you of the following and other items
your credit report has been checked
you can take steps to stop this kind of pre-application credit check
you may not get the credit if you do not provide collateral
"$5,000 off", "$7,000 off list price", "$2500 off MSRP"
Some auto dealers advertise that they have reduced a vehicle's price by a specified dollar amount, but don't tell you the price they started from or the amount the reduction is based on. For a new car, a dealer using a price or comparing the dealer's price to the discounted price must rely on the manufacturer's suggested retail price (MSRP) and disclose how much that MSRP is. Watch out for dealers who use a "list price" rather than the MSRP for a new vehicle. In addition, beware of ads that only provide how much the car has been reduced without any additional information. Keep in mind, however, there is no such thing as an MSRP for used cars.
"Free gas and oil change", "Sweepstake contest — prizes guaranteed"
Some dealers offer "free" merchandise or after-sale products and services when you buy or lease a car. These can include warranties, credit-repair services, identity-theft-protection services, security services, maintenance coverage, tire and wheel coverage, and insurance coverage. These items tend to complicate deals because the final price of a car is negotiable. Often, the dealer simply factors the so-called "free" merchandise into the price of a car. The law requires dealers to disclose the terms and conditions, including the price, of such services and merchandise. In a similar way, if a dealer is sponsoring a sweepstakes or other similar promotions, state law requires proper registration with the New York Secretary of State, along with information about the rules and odds of winning.