Attorney General James Announces 358 Guns Turned in at Watervliet Gun Buyback and More Than 3,000 Guns Turned In Throughout New York State
Historic Gun Buyback Effort Includes Nine Separate Buyback Events Throughout New York State
Including Today's Landmark Event, AG James Has Taken More Than 7,000 Firearms Out of New York Communities Since 2019
WATERVLIET – New York Attorney General Letitia James today announced that 358 firearms were turned in at a community gun buyback event hosted by her office, the Watervliet, Cohoes, Colonie, Green Island, and Menands police departments. This event — the largest gun buyback hosted by the Office of the Attorney General in the Capital Region — was part of Attorney General James' historic effort to hold nine simultaneous gun buyback events on the same day in communities throughout the state. Including the guns turned in at the Watervliet event, Attorney General James secured more than 3,000 guns today alone from across the state. To date, Attorney General James has removed more than 7,000 guns from New York communities since taking office in 2019.
"Gun violence has caused so many avoidable tragedies and robbed us of so many innocent New Yorkers," said Attorney General James. "Through our partnership with local law enforcement and public officials, we were able to organize this historic, single-day gun buyback event in nine locations throughout New York state. Every gun that we removed out of Watervliet homes and off the streets is a potential tragedy averted and another step in protecting communities throughout New York state."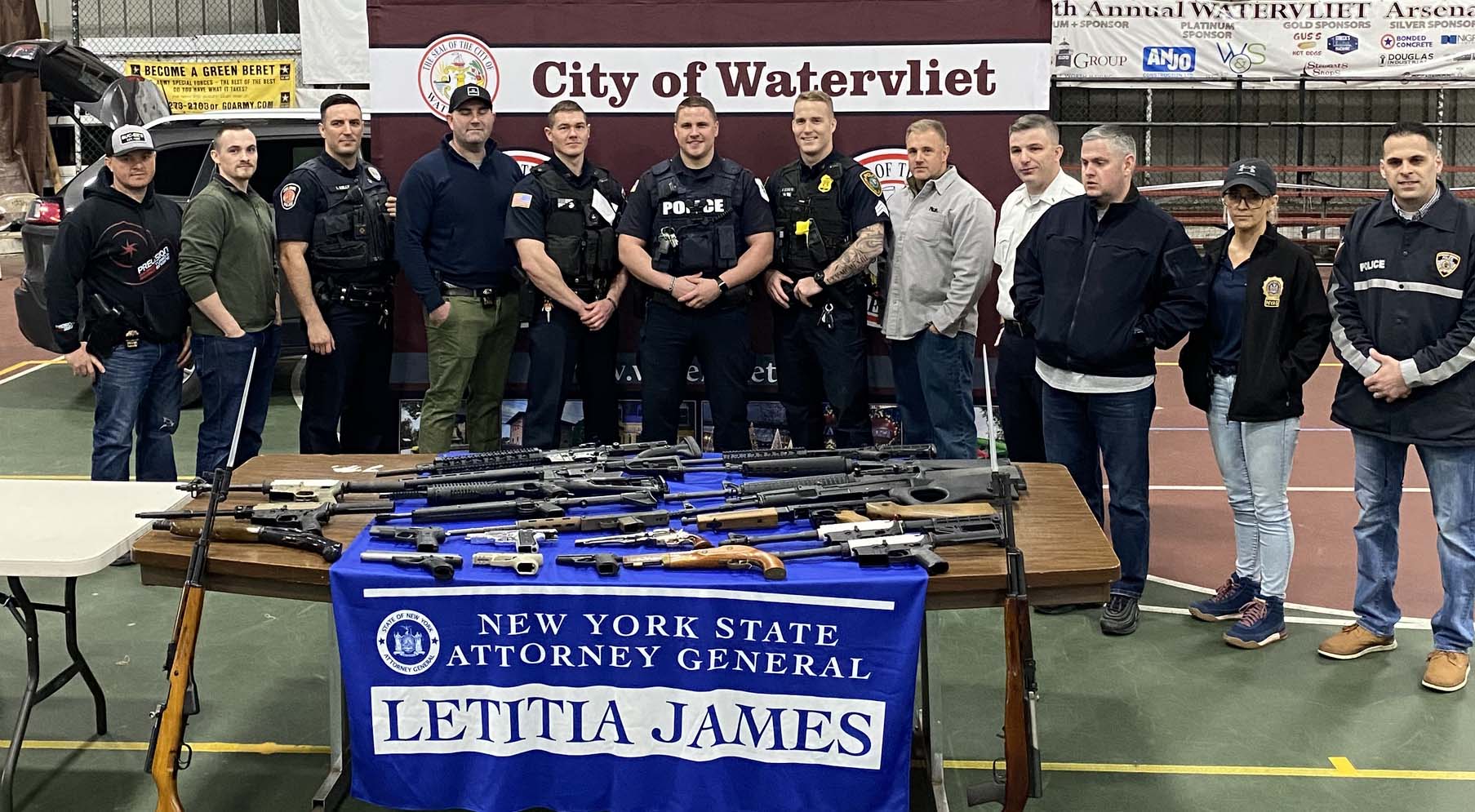 Guns recovered from Watervliet Gun Buyback on Statewide Gun Buyback Day
Today's statewide gun buyback resulted in the collection of more than 3,000 guns, including 185 assault rifles, 1,656 handguns, and 823 long guns. These figures include the 358 guns collected from the Watervliet event, which included 27 assault rifles, 153 handguns, and 114 long guns. Altogether, Attorney General James has removed more than 7,000 from New York communities since taking office in 2019.
"Instances of gun violence are on the rise across the country. Innocent people become victims for nothing more than being in the wrong place at the wrong time," said Watervliet Mayor Charles Patricelli. "In the past few months, our police department has made several gun arrests which has reduced the number of firearms in our community. We commend our police officers and all our neighboring agencies for their outstanding work, but they cannot do it alone. I am thankful that the Office of the Attorney General, along with our neighboring agencies, agreed to provide support. All of us working together can make a difference."
"Gun violence is not a single solution problem," said Watervliet Police Chief Joseph Centanni. "I am hopeful that these events will assist in the larger effort to protect exposed populations such as children, those confronted with mental health issues and domestic violence victims."
"Gun buyback programs can serve as an effective tool to remove firearms from availability preventing them from falling into the wrong hands, including unsuspecting children resulting in accidental discharge," said Colonie Town Supervisor Peter G Crummey.  
"The Colonie Police Department is committed to reducing gun violence in our surrounding communities and is thankful for the opportunity to participate in this event," said Colonie Police Chief Michael Woods.
"I'd like to thank Attorney General Letitia James for sponsoring the Gun Buyback event," said Green Island Mayor Ellen McNulty-Ryan. "I hope many guns are surrendered. A life is worth saving no matter the price."
"Any firearms that we can remove from the capital district streets and beyond can potentially prevent them from being used in criminal and violent acts negatively Impact our communities," said Green Island Police Chief Christopher Parker. "The Green Island Police Department is proud to participate in the buyback program."
"Unwanted guns in our homes need to be disposed of safely. Events like this one curb gun violence by accepting firearms, with no questions asked, in exchange for compensation," said Assemblymember John T. McDonald III. "We need to work together to combat our current public safety challenges and make our streets safer. Thank you to Attorney General James and the local police departments who worked together to make this event happen."
"We applaud Attorney General Letitia James for continuing to take proactive steps to keep our communities safe," said Shari Maurer, Volunteer, New York Chapter of Moms Demand Action. "New York is demonstrating its ongoing commitment to a multi-faceted approach to saving lives and we look forward to continuing to partner with her office and lawmakers to keep New York a national leader in the gun safety movement."
"New York continues to be a national leader in smart, effective gun laws. And as a result, it has one of the lowest gun death rates in the country — 63% below the national average," said David Pucino, Deputy Chief Counsel, Giffords Law Center. "Attorney General James's leadership has been critical to New York's success in fighting gun violence, but there is more work to do. This weekend's buyback will get more potentially dangerous guns off the streets. And while we can never know whose lives will be saved by this initiative, we know fewer families will be victimized by gun violence. Thank you to everyone who made this happen."